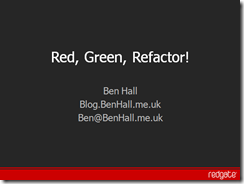 Tonight, I gave my Red, Green, Refactor session to NxtGenUG Coventry. It was great to return to my 'home' user group and give the presentation. The session was similar to the one I had presented at DDD Ireland and DDD Scotland with a few minor tweaks in places.
There where some great questions being asked afterwards and while waiting for the Pizza, there was a problem at the pizza place so I had to 'fill' for a while but then just moved on with slides. I would like to say thank you to everyone who attended. The attendance was really impressive (40 people?) and I hope everyone had a great time – I really enjoyed myself. I look forward to reading your feedback…
Below, please find my code and slides.
Code: BenHall_RedGreenRefactor_CompletedSolution.zip
Slides: BenHall_RedGreenRefactor_Slides.zip
If you have any more questions, then please email me. For now, this session will go onto the back burner, but if any user groups fancy a test driven development session then please give me a shout!