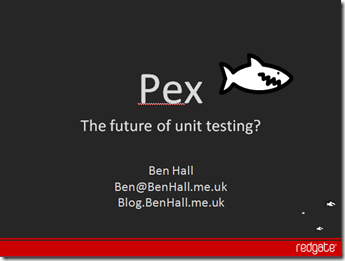 Yesterday, Developer Day (DDD) 7 was held at Microsoft UK. I delivered a presentation on Pex, a new project from Microsoft Research. I provided an introduction into Pex, the problem it attempts to solve, how Pex works in the real world and finally where I think the future of unit testing and Pex is heading.
I had a great day and I was very happy with my session – the demo gods where with me. Based on tweets via twitter and other comments, it was generally well received.  Thank you to everyone who attended, when feedback opens on the website please be sure to leave your comments as they are all taken into account.
Code Samples: http://blog.benhall.me.uk/downloads/DDD7/Code.zip
Slides: http://blog.benhall.me.uk/downloads/DDD7/Slides.zip
DDD7 also had Channel 9 recording all the sessions, if you couldn't attend – don't worry, hopefully the videos will be online in the new year!