Over the weekend, I decided to have a quick look at Windows 2008 Enterprise Server as RC1 has been recently released.  You can download a free 30 day trail from here.  What I'm going to cover in this post is just how to get started and install the OS. I'm using VMWare 6 to install the operating system.
1) After booting of the DVD, the first task is to select your language and keyboard layout. Much like with Windows Vista.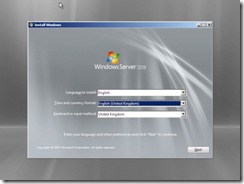 2) Enter your license key information, leave it blank for the 30 day free trail.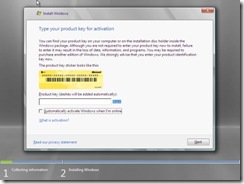 3) Select the version of Windows 2008 to install, notice the difference between Full and Core. You can select three editions, Standard, Enterprise, Data centre based on the Enterprise ISO I downloaded.  Web sever is a separate download.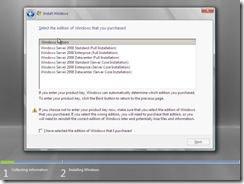 4) Windows will then go ahead and install the OS.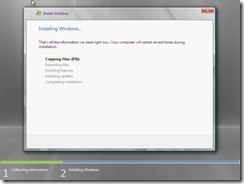 5) Done! The operating system is now full installed, it just needs a bit of config.  The first thing it does when it boots up is tell you that you need to change the Administrator password by entering a new password.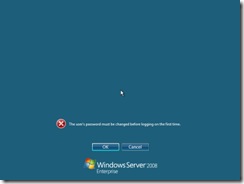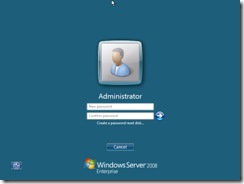 6) After setting the password, you will be logged in and an Initial configuration tasks dialog is displayed.  This is where you can configure the server, give it a correct name, turn of Windows Update (which is off by default) and configure the roles for the server.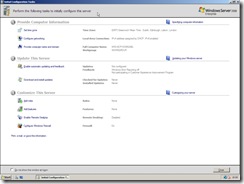 7) If you select to add roles, you will be shown a list of possible roles the server can perform. For example, active directory domain servers, web server, DHCP server so you can mix and match to meet your requirements.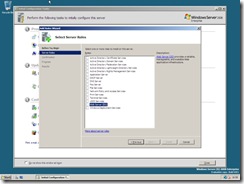 8) The other option is Select features.  This is where you can add different features, such as .Net 3.0 as only 2.0 is installed by default, and other stuff server type stuff!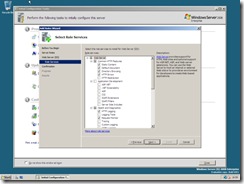 Best feature: Desktop Experience – Make your Windows 2008 Enterprise Server look and act like Windows Vista!! Aero all the way baby!
That's really it.  To get started with 2008 is really simple.  You can easily tell 2008 and Vista are closely related.
One thing I did notice, the Administrator account does not get prompted for UAC, but you can create a standard user which will have UAC.