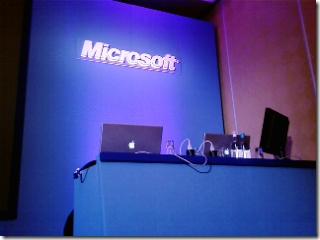 Yesterday and today I attended the Designertopia event in London, which I got invited to as part of my Microsoft Student Partner program, this was a great event while being different to may of the other microsoft events.  There where also five other MSPs there, it was great to meet up with some of the guys again.
Yesterday started off with a keynote with the program managers from Redmond giving a demonstrate of the applications (Ajax and Expression), while showing off some cool applications which had been created using WPF, Blend and Ajax.  I always love to see real world applications using this, so this was great. 
The room was then split into two halfs, one for the more creative people, with one for the more technical attendees (I stayed on the technical side for the two days).  The first technical event was given by two employees from partners who had worked on applications which where created by Blend and WPF.  Again, this was really great to see and gave some insight into how the technologies could be used together – plus they used Vista on a MacBook Pro to do the demos (see image).  Next up was Expression Web, saw some cool features which I just hadn't realised where there before.  The last one of the day was not technical, but based on the idea of "connecting design to real business value".  This was really interesting, giving a insight into what happens in the design world while discussing when to focus on design and how to bring up the discussion with clients.  At the end of the day they opened the bar for everyone to do a bit of networking.  Sadly, I couldn't take full advantage of the free bar but I managed to squeeze in a few beers before having to head home.
Today (Day 2) was a mixture of different styles of discussions.  The first two sessions where based on UX with a talk on how the Vista UX came about, with some interesting screenshots from previous releases and UI mock-ups – some things from way back in 2002 which people said Microsoft had copied 😉 The creators of UniveRSS gave a demo of the app and how to use the Z axis, shame no code.
Carrie Longson from Microsoft then gave a great presentation on some of the apps which had been created with partners, this included IMG's Golf and Fashion application and Transport for London's tube application.  Saw this before, but still great.
Jon Harris then did a truly amazing talk on Blend.  He covered a lot of ground in a short space of time and I now feel confident I could use Blend.  The best talk of the two days for me.  It was great!  Really want to use Blend now.
Overall, great event.  Hope they hold another one (with more talks from Jon)
Got to do it all over again at WebDD tomorrow, can't wait!