As previously posted, NxtGenUG are doing a day long event in Reading in May.  For this event I have created a countdown gadget for your vista sidebar.
Download it here:
http://blog.benhall.me.uk/downloads/NxtGenUGFestCountDown.gadget
The gadget looks like this (sorry about the quality of the screenshot):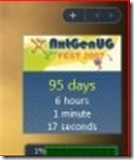 If you use the following code you can have it on your own blog

which looks something like this:
At some point over the next two weeks I will create a screencast on how I created the gadget from start to finish.  Let me know what you think to it.