Today, the .Net division at Red Gate released a brand new tool called Exception Hunter.  Exception Hunter allows you to load in any .Net assembly and reports back any possible exceptions the function might throw.  This allows you to locate unhandled exceptions quickly, down to the line of code where the exception is being thrown – even if its within the framework itself.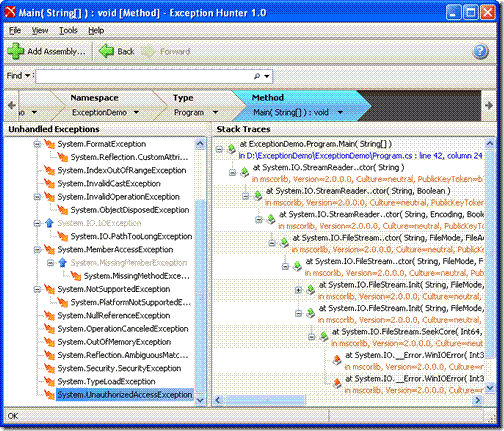 I've been playing around with it while it was being developed and really think it's a great application. Well done to the team!
Visit http://www.red-gate.com/products/exception_hunter/index.htm for more information, screenshots, demo and a 14 day trail.
Data Sheet – http://www.red-gate.com/products/Exception_Hunter/Exception_Hunter.pdf
UPDATE: Bart worked hard on this, read his post – http://www.simple-talk.com/community/blogs/bart/archive/2007/12/10/40742.aspx