Codeplex have recently added a new feature – mailing lists for the project.  This means you can use the discussion forumboard in the style of a mailing list. To join a 'mailing list' for a project, login to CodePlex and visit the Discussion tab for a project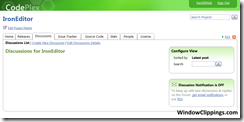 Click get email notifications, you can then select how you would like the messages to be delivered. However, its a shame you can't have a different project address and discussion address, I like to use Googlemail for all discussions as it has a much better interface but my private webmail for personal emails.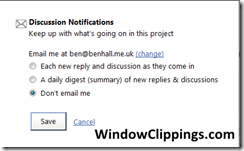 You have now signed up to the 'mailing list'. To post a message, you send an email to @discussions.codeplex.com, where ProjectName is the name in the URL. For example [email protected]

Your email message will then be placed on the discussion board. This actually took a while to appear, I don't know if it was because I had only just created the project.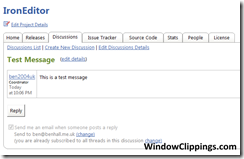 Very useful feature, means all discussions can happen in a central place without having to go to a separate service provider (Google Groups).
Documentation:
http://www.codeplex.com/CodePlex/Wiki/View.aspx?title=Mailing%20Lists&referringTitle=CodePlex%20Documentation