Recently I mentioned I was "between startups", a situation that lasted five days. From my experience of hiring this is an all too common occurrence. By the time you hear that someone is looking for work they're already gone – the situation is almost as bad as flat hunting in London.
Demand for anyone attached to startups, especially developers and designers, in London is extremely competitive which makes recruitment a constant battle. With the competitive nature of the market it's extremely important to be on the ball and act quickly when people become available.
The role of a great in-house recruiter can help with this, building relationships talent who could potentially fit the criteria of the team. Having this person also gives the company an unfair advantage as they're in the perfect position to identify subtle hints that a person might be considering leaving their current role. In my scenario there were two key updates that reflected my new position before the blog post.
The first change I made was to update my twitter bio to be more generic. While someone changing their twitter bio doesn't mean they're looking for a new role, it could be an early indication of someone getting their house in order. The second change I made was updating my LinkedIn profile. With this a good recruiter / company had 3-4 days lead time before it was common knowledge.
However expecting a person to identify these subtle changes is unrealistic. This is where Missing Unicorns saves the day. At the heart is a system watching for these types of changes, these tweaks and early indications that someone is getting ready to move on. If you've indicated they could be a potential hire, when we detect certain changes then we'll alert you via email.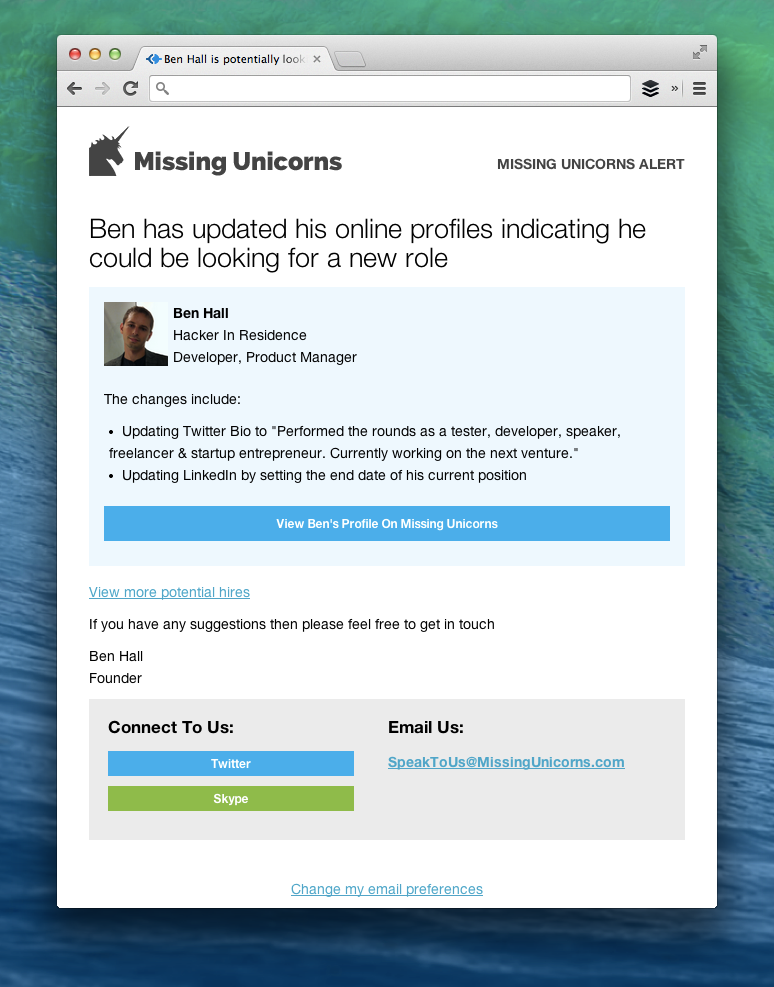 This alert allows you to start being ahead of your competition instead of missing out.
Missing Unicorns isn't just about predicting job changes. It also watches for new projects, skills and their latest work to help you build a deeper understanding of current topics, approaches and influencers within your network allowing you to be at the top of your hiring game. If you're interested in hearing more and access to the private beta of Missing Unicorns then enter your email address below