I've got a new phone!! I decided to go ahead and buy it after getting frustrated with my existing phone, the Samsung i300 (Windows Mobile 2003SE).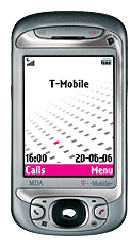 Had it since Saturday and been really pleased with it.  I love the fact that it has got GPRS, 3G and WiFi so I can check anything online when I need to. I went with T-Mobile as they offered me unlimited web and email for £7.50 a month and the tariff at £15 a month – fits in with my budget, the phone costs a little bit more, but it works out cheaper in the long run for me.
Downloaded .Net CF 2.0 onto the phone, just need to have a play around with some code now.  I have got a great (well, good) idea for an application so watch this space 😉
Also started writing down all my ideas on the phone, following GTD style, which is great and finding it really useful to be able to write down notes and keep them safe (paper tends to go in a pile and get lost).
Good Points:
Lots…
Bad Points:
I haven't been able to download my IMAP email yet.  My university works great, so does googlemail and hotmail but my main account doesn't work. 
Can't have the phone on silent, but an alarm yet – what happens if I forget to turn it off silent and use it as a wake up alarm?
Doesn't have Crossbow/WM6 and unlikely to be upgradeable.
I will blog more as I find more…