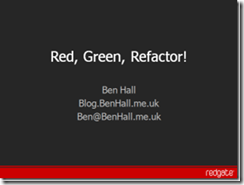 This weekend I was up in Glasgow for Developer Day Scotland! I was their presenting my Red, Green, Refactor session which covers TDD and Test Doubles, very similar session to the one I did last weekend at DDD Ireland – this one just had a few tweaks…
As for the conference, I think Colin Mackay and team did a great job, everything seemed to happen seamlessly and everyone seemed to really enjoy themselves. Everyone who attendee were very excited and passionate about the event which really improved the atmosphere and made it a lot easier for everyone involved.
As for my session, I was very happy with it. I discussed everything I wanted, all the demo's worked, and finished on time. It could have been better, but overall I was very happy with the outcome.
Slides: BenHall_RedGreenRefactor_Slides.zip
Code: BenHall_RedGreenRefactor_Code.zip
At lunch, I did a grok talk on Red Gate's SQL Data Generator. Red Gate were one of the sponsors, but I just wanted to give a good honest demo of the product – not any marketing! Everyone I spoke to afterwards was really impressed with the application which is always good.
Next up, NxtGenUG Coventry where I will be presenting the same session, if you are in the area why not come along.