After running team city for a while, and being really happy with it, I noticed that all of its configuration and all of my artifacts where being stored on under my local users folder (C:UsersBen Hall.BuildServer).  On my system, I've moved all of my user profile information onto my E: drive, so I didn't really want this information on my C:.  I also wasn't happy with the location because it wasn't easy to get at to browse.
After a bit of hunting around, I found that I needed to modify the TEAMCITY.DATA.PATH property to point it to my own custom location, after a bit more hunting around I found where that property actually was.
What you need to do, is first copy the .BuildServer directory to your new location, this has all of your settings. Next load a command property (as administrator) and enter the command:
C:TeamCityBintomcat6w.exe //ES//TeamCity
This will load a TeamCity properties dialog, under Java at the bottom of the options you will find the property as shown below.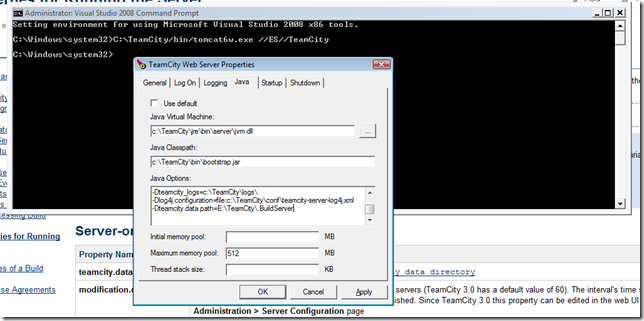 Restart the service and your done!  If you get your license agreement again – your pointing to the wrong data directory.
Wiki Page: http://www.jetbrains.net/confluence/display/TCD3/System+Properties+for+Running+the+Server