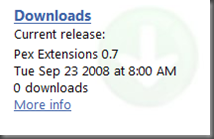 A quick announcement to say that Pex 0.7 has been released. As such, I have also updated the Pex Extensions, which I have blogged about previous, allowing you to generate NUnit, MbUnit and xUnit tests from Pex 0.7.
Read Nikloai Tillmann's blog for more information on the release.
Visit CodePlex Pex project to download the extensions.